Schedule Your Service Appointment Online Here Or Text Service 1-289-207-4832
Welcome to Volkswagen Richmond Hill Service Department!
Volkswagen Richmond Hill's service advisors are here to answer any questions you may have regarding your Volkswagen. You may contact us by calling 905-889-7701 or conveniently book your next service appointment here by clicking the "Schedule a Service Appointment" under the Service tab.
Worried about waiting at the dealership while we take care of your Volkswagen? No need. We have a lounge area, business area, complimentary wi-fi, the latest magazines and daily newspapers; and last but not least, complimentary coffee. Our coffee machine makes different types of hot beverages including; coffees, lattés, cappuccinos and hot chocolate. However, if you still don't feel like waiting, we can shuttle you in and around Richmond Hill or we can arrange for a rental vehicle for you. For more information, please do not hesitate to contact our advisors in the Service Department.
Our shop contains all of the latest Volkswagen tools and technology. Our technicians are all licensed by the Ontario Ministry as well as being Volkswagen certified. In fact, our Shop Foreman is one of the very few Master Volkswagen Technicians certified in Canada! We want the best for your car, so we are continually training our staff, in order to provide the most current and accurate information for you and your vehicle.
---
What our clients are saying about our Service Department…
"You can't help but love this place. Friendly, impeccable service always. I really do feel like family there. I look forward to oil changes just to drop in. It is also the easiest dealership to buy a car at. Whenever it is, that I die, I WILL have Volkswagen Richmond Hill, V-Dub. You just can't get any better than that anywhere"
"… great enough to eliminate the stigma of a Dealership's service department"
Always consistent good service. I bypass several VW dealers to go here
I can guarantee you that if I have/had any issues with your service department – you would have heard from me. You have a great staff in the service department and rely on their input as well as the fact that they listen to me. Thank you!
"Continue to keep up the good work"
"I love the staff at Volkswagen Richmond Hill. Great people."
"Volkswagen Richmond Hill is the best. I regret not buying my second VW at Volkswagen Richmond Hill as I did the first one."
"Volkswagen Richmond Hill is the dealer to trust and rely upon"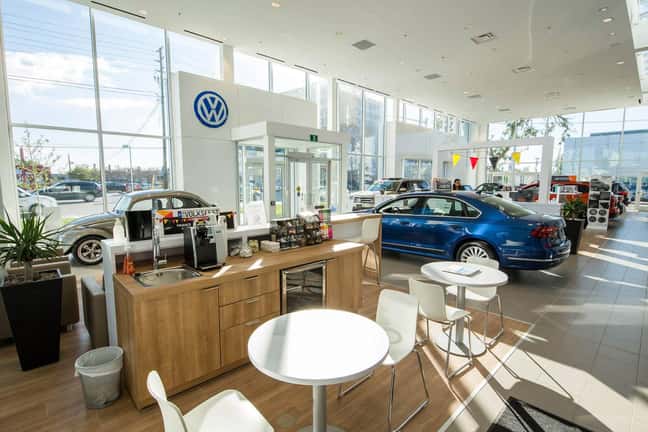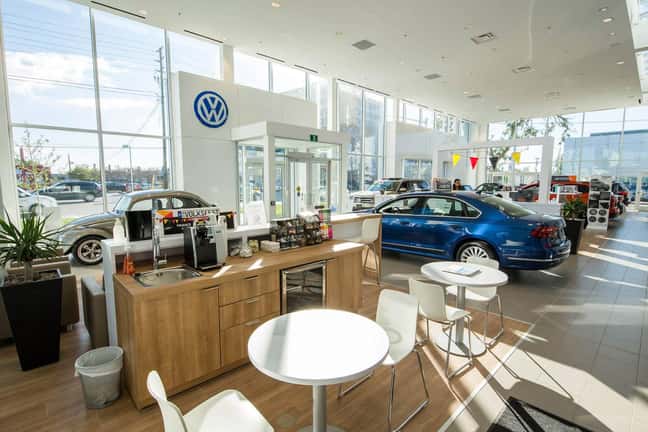 Volkswagen's 24-hour Roadside Assistance Call: 1-800-411-6688
Just one call to this number and Roadside Assistance* is on its way. However, they will ask you for:
Your vehicle's identification number
Your vehicle's year, model, colour and license plate number
The area code of where you're calling from
The exact location of the vehicle (street address and nearest intersection)
The type of service required and a brief description of the problem
Enjoy a freshly brewed coffee or latte in our Latte Lounge, compliments of the Richmond Hill Volkswagen Service Department.
We strive to make your service visit a pleasurable and timely experience so please; sit, relax, surf the net with our complimentary wi-fi and enjoy a latte on us!
Volkswagen Richmond Hill is located at:
10440 Yonge Street • Richmond Hill, ON L4C 3C4
What would you like to do next?
Search
Search By Keyword
Search By Filters
Saved
SAVED VEHICLES
You don't have any saved vehicles!
Look for this link on your favorites:
Once you've saved some vehicles, you can view them here at any time.